Dr. Dwaine J. Peetz Sr., M.D., age 96, entered into eternal rest on March 6, 2020, at his home in Neligh, Nebraska. Mass of Christian Burial will be 10:30 a.m., Wednesday, March 11, 2020, at St. Francis of Catholic Church in Neligh, Nebraska, with Father Pat Nields officiating. Visitation will be from 5:00 o'clock to 7:00 o'clock p.m. on Tuesday, March 10, 2020, at St. Francis of Assissi Catholic Church in Neligh, with a wake service and rosary at 7:00 p.m. Burial will be at Laurel Hill Cemetery in Neligh, with Military Rights conducted by Neligh American Legion Post #172 and VFW #5287. Beyer Snider Memorial Funeral Home is handling arrangements. Condolences may be directed to the family at www.beyersnidermemorialfh.com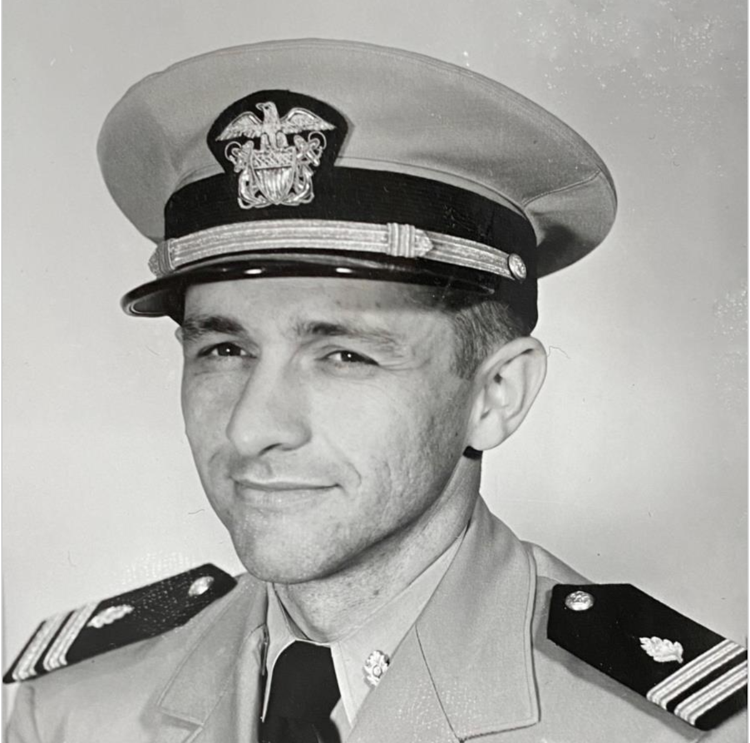 Per Dwaine's wishes, in lieu of flowers, memorials may be directed to Elgin Pope John XXIII Central Catholic High School or to St. Francis Catholic Church in Neligh, Nebraska.
Dwaine J. Peetz Sr., M.D. was born on December 4, 1923, in rural Cheyenne County, Nebraska, and grew up on the family farm. He attended Sidney St. Patrick's Academy, graduating from the Class of 1940 as salutatorian at 16 years of age. Thereafter, he attended the University of Nebraska, Miami University at Oxford, Ohio, and received his Bachelor of Science in Medicine from Creighton University in 1946. In 1948 he graduated from Creighton University with a Doctor of Medicine degree, and in 1953 received his Master of Science in Surgery from Creighton University.
After high school, he worked for two years as a partsman with International Harvester, and then enlisted in the United States Navy. He was called in for active duty in 1943. He received his training at Farragut Naval Training Station near Sandpoint, Idaho, and served three stints of active duty from January 7, 1943, to December of 1945, September 1948 to June 1950; and July 1, 1953, to June 30, 1954. He ultimately resigned his commission as a Lieutenant in the United States Naval Reserve in April of 1959 to devote full-time to his busy medical practice.
In June of 1955, Dr. Peetz moved his family to Neligh, Nebraska, where he opened his family medical practice. On August 1, 1972 he was united in marriage to Carmen Kreivenas. He performed general, orthopedic, colon, and ob-gyn surgeries throughout North Central and Northeast Nebraska until his retirement in 2000. He was a member of the teaching faculty at Creighton University, member and past president of the Nebraska Medical Association, a fellow of the American College of Surgeons, a member of the American Medical Association, Alpha Omega Alpha Fraternity Honors Society, and a member of the Flying Physicians Association. Dr. Peetz was a World War II veteran, and had a consistent 64 year membership with the American Legion Post No. 172. He enjoyed golfing, traveling, and flying hours as a command seat pilot. He obtained his private pilot's license in 1957, owning multiple aircraft over the years, which he used in his medical practice and personal travels. However, his greatest passion and enjoyment came from practicing medicine, treating his patients, and enjoying the comradery of many capable and hard-working Nebraska physicians throughout Northeast Nebraska.
Dr. Peetz was instrumental in the planning, development, and building of Elgin Pope John XXIII Central Catholic High School, and continued to support them throughout his life.
He is survived by his wife, Carmen; children, Susan (Delbert) Ames, Dwaine (Cathy) Peetz Jr., Forrest "Frosty" (Melanie) Peetz, Thomas (Carolyn) Peetz, Mary Candace Pelster, Kristi (Gerald) Zimmer, Stephanie (David) Scott, and Katie (Mike) Thiele; 27 grandchildren, 10 step grandchildren, 44 great grandchildren; sisters, Rose Thomas and Elaine Glanz, sister-in-law Betty Peetz; many nieces, nephews, and cousins.
Preceding him in death were his son, Michael (Joni) Peetz; grandson, Jesse Peetz; his parents, Frank and Bertha Peetz; brother, Burgett Peetz; sister and brother-in-law, Gloria and Eugene Bonkewicz; brothers-in-law, LaVern Thomas and Harold Glanz; as well as his first wife, Mildred Bauman.
To plant a tree

in memory of Services Peetz

as a living tribute, please visit Tribute Store.