Student's Name: Hunter Howard
 Student's School: Elkhorn Valley High School
Parents Names: Travis and Paula Howard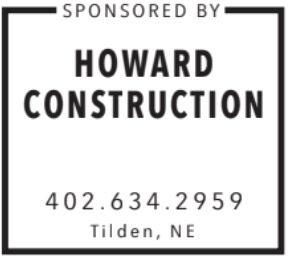 Siblings Names/Ages:     Montana                                                                                          
What activities did you participate in while in high school?
During high school I participated in jazz band, marching band, pep band, football, track, FFA, NVC technology day, and 4H.  When our school started FFA in 2018 I placed 6th in TIG welding at NECC and 8th at State. In 2019 I was district runner up in TIG welding and placed 5th at state . I participated at the NVC tech day in 2018 and placed 1st in the balloon vehicle. In 2019 I placed 1st in pneumatics/hydraulics testing. In 2020 I placed 4th in testing tower, 2nd in welding, and 1st in power mechanics. I was on our NVC quiz bowl team that placed first all three years.  I am a member of the Antelope County Shooter's club and enjoy shooting and hunting. I won many awards for shooting bb guns, .22 rifles, trap, along with bow and arrow.
What is your favorite memory of high school?
 My favorite memory from high school came from the times I got to hang out with my buddies and my girlfriend while working on my projects.
What is your favorite class and why?
 My favorite class was welding.  I liked welding because it allowed me to create projects and learn new skills such as running the CNC machine. I used the CNC machine to make many things such as signs, fire pits, and customized parts.
What advice can you offer underclassmen?
 The best advice I can offer is to take classes early and be able to do a work study your senior year.  The best part of my senior year was to be able to leave before lunch and go to work.  It has given me a lot of great opportunities for the future.
 What are your future plans (college with major if known or workforce) and where do you hope to be in five years?
  I am enrolled at Northeast Community College and plan to pursue a career in welding along with machining and manufacturing because these skills will be essential in building my own business. I hope to own and run my own business in five years.